Taiko and Orff in Turkey (April 2016)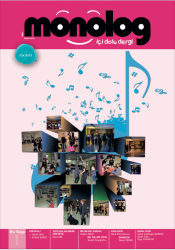 An article written by Manman is featured in the premier publication of Turkish Magazine, "MONOLOG", for music and arts teachers in Turkey. The article introduces a song composed by Manman titled "Aisatsu Song" (Taiko Greeting Song).  The article also explain different activities that have been played along with the song in Manman's Taiko classes for children and families.
"Orff Drumming FUNdamentals" in Macao 2015
Organised by Macao Young Artists Association, support by Mozart Education Center and Hong Kong Orff4kids.
Click here for the original article on Macao Daily online
Drumming FUNdamentals – Training for Music Teachers song, games and dance from around the world
Date: Nov 7 & 8, 2015 (Sat and Sun)
Time: 2-6pm (4 hours per day, total 8 hours)
Venue: Mozart Education Center, Macao
17H, Praca Kin Heng Long, Alameda Dr. Carlos D'Assumpcao 258, Macau Contents: Studies have proven that our learning abilities are maximised within a fun and supportive atmosphere. Through the use of musical games and dances from around the world, (taiko, clapping games, songs, body music, etc.), participants learn music intuitively, while improving their rhythmic sense and creativity. The fundamentals of music are internalized through physical involvement and multi-sensory activities, then applied to the taiko drumming, all while having fun. This workshop will also cover how to research for songs and make it work for your classroom and/or age group.
"Drumming Up some FUN" Honolulu Star Advertiser (2014-05-02)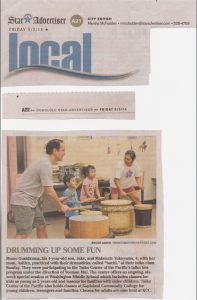 "Beat it" Honolulu Star Advertiser (2013-04-06)
Taiko Center of the Pacific Taiko Tots classes for toddlers age 2-3 with their parent was featured in Honolulu local news. The class was started by Yeeman Mui in Spring 2013.
"Taiko Made Fun" Lisa Magazine, Hong Kong (2010-12-08)
Yeeman and Heidi, teachers of "QQ Taiko" were featured in a Hong Kong live style Magazine, "Lisa Magazine". "QQ Taiko" were taiko classes for age 5 and above to learn the arts of taiko at the education centre QQ Club. The classes were offered in 2010-2011.
Photo
(Click the image for the actual files.)
---
Workshop photos from "Taiko FUNdamentals Weekend Intensive 2020" in Torrance, CA on Jan 18-20, 2020.